Episode #159: Summer Schwarzenegger Series 1: Reflections on Rewatching Conan the Barbarian (1982) with Adam from @mom_gave_them_away 
https://archive.org/download/Podcast159_201808/Podcast%20159.mp3
This week marks the beginning of a four-part summer Arnold Schwarzenegger 80s action fest where Adam from the Instagram page @mom_gave_them_away and I rewatch four classic Arnold movies we originally saw as kids and discuss our reflections.  Today, we start in chronological order with Conan the Barbarian, one of Arnold's first staring roles.  It combined some of the best parts of Frank Frazetta (he, of course, painted many Conans and Conan-like figures during his career) with a tinge of the 70s, pre-MTV/quick cut, languid style filmmaking (hearkening back to spaghetti westerns) with an epic score by Basil Poledouris.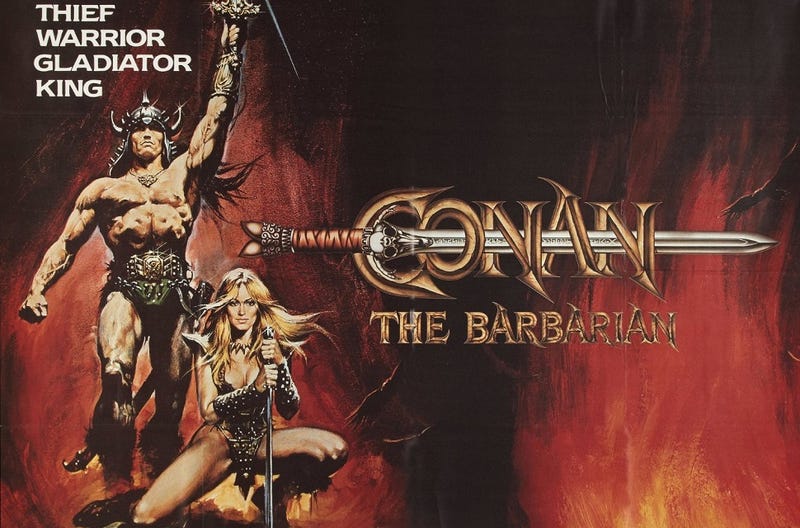 Members of the cast
The podcast now has a page on Facebook, so head over there to listen to the score and check out some Frank Frazetta renditions of Conan.
One of my favorite scenes from the film:
Arnold talks about how influential Conan was for his career and what he had to do prior to getting the role in an inspirational University of Houston commencement address here.
To end on a high note, despite the fact that these movies had a degree of badassery that no one could deny, the video games that came out in association with them with pretty horrendous.  But I'll let the AVGN do the honors:
Adam will BE BACK next week for The Terminator!  In the meantime, check out all the excellent custom action figure work he does for a taste of some truly heroic work.
∞∞∞∞∞∞∞∞
Between Two Worlds, the synth EP follow up to Long Ago Not So Far Away is now out for streaming on Bandcamp.  
The bonus track, called "Flight of the Cloudrider" has a 80s movie mashup music video (see if you can identify all the movies!) which is available on youtube.   This app was largely created with the iphone app Auxy.
Stay tuned.  Follow along on Spotify!  There is also a growing extended Thirteenth Hourplaylist on Spotify with a growing number of retro 80s songs.
As always, thanks for listening!
∞∞∞∞∞∞∞∞
 Signup for the mailing list for a free special edition podcast, a demo copy of The Thirteenth Hour, and access to retro 80s soundtrack!
Have this podcast conveniently delivered to you each week on iTunes, Stitcher, Player FM, Tunein, and Googleplay Music.
Follow The Thirteenth Hour's Instagram pages: @the13thhr for your random postings on ninjas, martial arts, archery, flips, breakdancing, fantasy art and and @the13thhr.ost for more 80s music, movies, and songs from The Thirteenth Hour books and soundtrack.
Listen to Long Ago Not So Far Away, the Thirteenth Hour soundtrack online at: https://joshuablum.bandcamp.com/ or Spotify.  Join the mailing list for a digital free copy.  You can also get it on CD or tape.
Website: https://13thhr.wordpress.com
Book trailer: http://bit.ly/1VhJhXY
Interested in reading and reviewing The Thirteenth Hour for a free book?  Just email me at writejoshuablum@gmail.com for more details!