The Thirteenth Hour Podcast #370: A Look Back at 80s Choose Your Own Adventure/Endless Quest Style Books, DnD, and Dragon Fall Reading Part 5
https://archive.org/download/podcast-370/Podcast%20370.mp3
This week, I'm taking a little trip down memory lane, talking about some of the Choose Your Own Adventure style books I recall liking as a kid.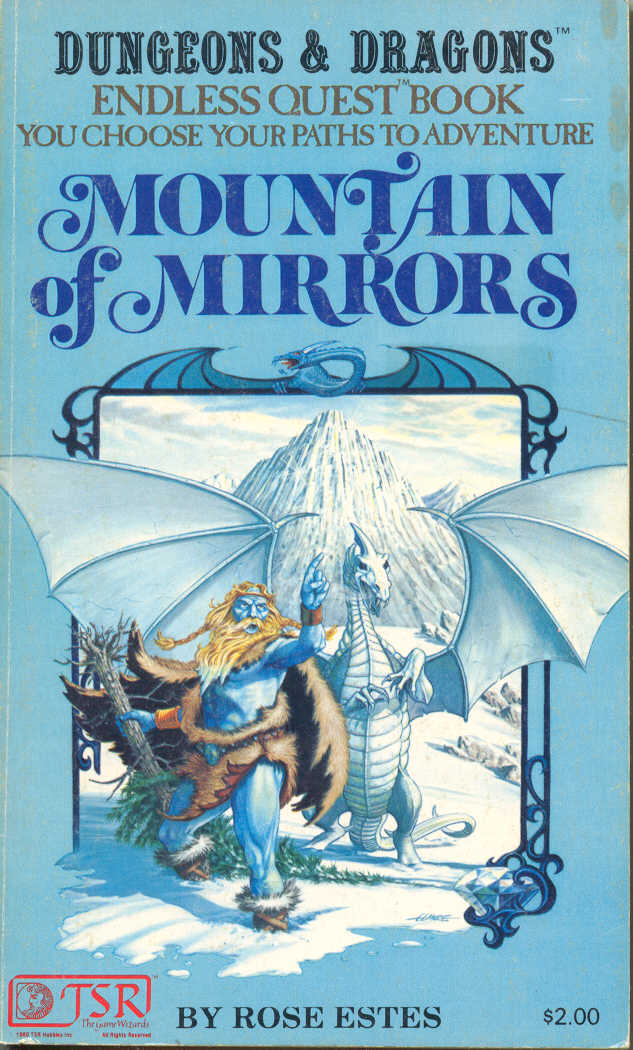 One of the show's previous guests, Chad Derdowski (on episodes 107, 108, and 119), wrote and illustrated his own (hilarious, I might add) 80s inspired Choose Your Own Adventure style fantasy books, Fortune Favors the Bold and its sequel that are brilliant.  Look up his work on IG here!
I've been reminded of books like these since I've been working on something specific for Patreon members – a Thirteenth Hour specific Dungeons & Dragons style series of scenarios.  I'm modding an existing rpg platform called Quest and adding some additions to the combat system to allow for more nuance there and hopefully make it less dependent on pure luck.  Patreon members – stay tuned.
My brother, Jeremy, wrote an article on his blog about the one issue of Dragon magazine we had as kids.  We read it often (even though we didn't understand what it was about) due to the great fantasy art and the fact we knew it was about games, and though we couldn't really comprehend what role playing games were, the game books, the imagery, the rep (Satanic panic and all), and the miniatures all made it an alluring mystery.
And another Jeremy!  Shout out also to a different Jeremy – Jeremy Lesniak from Whistlekick.  We'll be recording a show this week about his martial arts-themed novel, Faith.  Maybe we'll even get to discuss some of these things in the context of his story.
In the second part of the pod, we are starting Chapter 4 in Dragon Fall (1984) by Lee J Hindle.  
More from Dragon Fall next week!
∞∞∞∞∞∞∞∞

This summer, if you're looking for an adult of child mask, check out Thirteenth Hour mask combo package on Etsy.  This fall, it became really hard to find good quality masks for our kids as they were going back to school.  There are still long wait times for some of the companies we like best, so I thought, why not try to find an alternative?  I eventually settled on the triple layer masks available for printing on by the company Flashbay.  They were one of the few companies I found that were transparent about their third party safety data (Junior: https://static.flashbay.com/images/certificates/Junior_REACH.pdf?v=1617870020, Adult: https://static.flashbay.com/images/certificates/Sky_Performance.pdf?v=1603078812) which is nice.  I was impressed by how well these masks performed on the filtration tests, even after repeat washings.  Also, I really liked how both the ears and nose piece could be adjusted for a good fit.
The Thirteenth Hour mask combo also comes with Thirteenth Hour hand sanitizer! (But of course.)
There are now Thirteenth Hour toys!  If you'd like to pick up one of these glow in the dark figures for yourself, feel free to email me or go to the Etsy store I set up (https://www.etsy.com/shop/ThirteenthHourStudio) and get them there.

If the past few months have got you needing a break, you may want to chill out to this 80s synth throwback track for a upcoming LP with the accompanying music video:
Empty Hands, the synth EP soundtrack to the novella, Empty Hands, is now out for streaming on Bandcamp.  
Stay tuned.  Follow along on Spotify!  There is also a growing extended Thirteenth Hour playlist on Spotify with a growing number of retro 80s songs.
As always, thanks for listening!
∞∞∞∞∞∞∞∞
 Signup for the mailing list for a free special edition podcast, a demo copy of The Thirteenth Hour, and access to retro 80s soundtrack!
Like what you see or hear? Consider supporting the show over at Thirteenth Hour Arts on Patreon or adding to my virtual tip jar over at Ko-fi.
Join the Thirteenth Hour Arts Group over on Facebook, a growing community of creative people.
Have this podcast conveniently delivered to you each week on Spotify,  iTunes, Stitcher, Player FM, Tunein, and Googleplay Music.
Follow The Thirteenth Hour's Instagram pages: @the13thhr for your random postings on ninjas, martial arts, archery, flips, breakdancing, fantasy art and and @the13thhr.ost for more 80s music, movies, and songs from The Thirteenth Hour books and soundtrack.
Listen to Long Ago Not So Far Away, the Thirteenth Hour soundtrack online at: https://joshuablum.bandcamp.com/ or Spotify.  Join the mailing list for a digital free copy.  You can also get it on CD or tape.
Website: https://13thhr.wordpress.com
Book trailer: http://bit.ly/1VhJhXY
Interested in reading and reviewing The Thirteenth Hour for a free book?  Just email me at writejoshuablum@gmail.com for more details!