Episode #124: The Robocop Show (30th Anniversary Tribute with Jeremy and Brent Simon)
https://archive.org/download/Podcast124RobocopShow/Podcast%20124%20Robocop%20Show.mp3
Last show of the year! Happy holidays! Brent Simon and my brother, Jeremy, came on the show this week to cap off 2017 to mark the 30th anniversary of the 1987 film, Robocop.  We also touch on the recent remake and a number of other things from the era, like some Saturday morning cartoons (there was a trend of making kids' cartoons out of hyper violent 80s action films, like Conan, Chuck Norris flicks, Rambo, and, of course, Robocop – click on the highlighted links or the pics below for youtube clips of the show intros).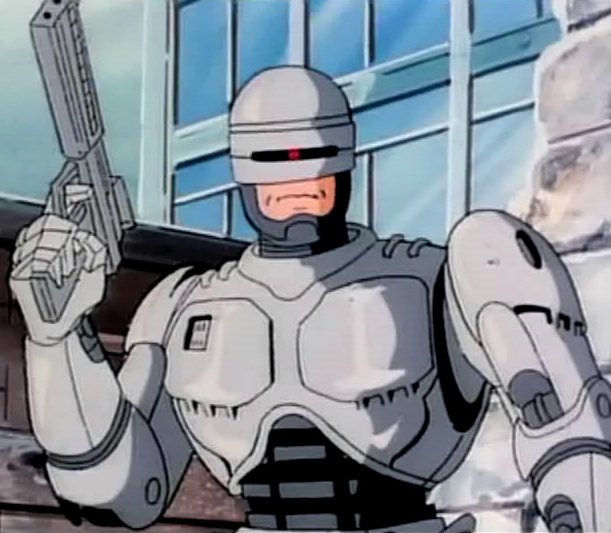 The original Robocop was an interesting film in many ways since it was sort of aimed at kids … yet not (in that it was over the top violent and barely squeaked by an R rating)! However, robots were all the rage at the time.  Kids, adults, we all loved them.  Remember that this was the age of super robots cartoons (Transformers, Gobots, Robotech, Voltron, M.A.S.K., and a skew of others, mostly from Japan that didn't get as much exposure here in the US) and ones in films like Star Wars, Short Circuit, and Terminator.
We also covered a number of Robocop spin offs, like the games and some crossover comics.  Jeremy, who has encyclopedic knowledge of comic books and is behind the Classic Batman Panels Instagram page, contributed a lot of great info on the show about comic crossovers (many of whom were published by Dark Horse), including the Robocop / Terminator miniseries written by Frank Miller.
Of course, one must check out the AVGN videos on the games spawned by the Robocop franchise.
The originals for the NES looked pretty shite.  In this epsiode the AVG Nerd also comments on the interesting 80s/90s phenomenon of making kids games' out of R rated movies.
The Robocop v Terminator SNES game looks like it might have been ok to while away a few hours.
I originally intended to purchase a used gas blowback airsoft replica of Robocop's auto 9 machine pistol on eBay for the show and include a video clip of it letting loose like in the movie but decided against it when I saw the price tag. 🙂   Ganking a clip off youtube was much cheaper!
(The auto 9, as a heavily modified Beretta 93R, doesn't actually exist in real life, so a replica is the closest you can get if you want to legally own something like in the movie.  Even so, a gas blowback airsoft pistol will still set you back ~200 USD.  If you are in the States, a retailer like Airsoft Atlanta is a good option, and you won't have to pay international shipping charges.  However, the latter may be worth it in some cases.  The HK retailer Redwolf Airsoft has a good selection and generally reasonable prices.)
This pixelart animation of Lara Croft for the Tomb Raider game I intended to make once upon a time shows her shooting an auto 9.
Find more Brent Simon here (parts 1 , 2 , and 3 here) or on Jeff Finely's channel (below, Brent's interview and Jeff's – they were both multipart episodes, and Jeff compiled them into these videos):
A day in the life of Brent Simon, "The Brentumentary," done by Jeff, and Brent current project, Aerial Focused.
Giveaway:
Nirvana Pilot Yume is a recently release PC game now available on Steam created to answer the question: what happened if the 1993 space racing MS-DOS game, Skyroads, were a visual novel with 80s anime visuals and a synthwave soundtrack?
The team who created it, Dev9k, came on the show last week (12/18/17) to talk about their influences and have graciously supplied a free copy of the game for a lucky entrant into this contest!  It will go on until next week. 
Happy holidays.  See you in the New Year!
∞∞∞∞∞∞∞∞
Between Two Worlds, the synth EP follow up to Long Ago Not So Far Away is now out for streaming on Bandcamp.  
The bonus track, called "Flight of the Cloudrider" has a 80s movie mashup music video (see if you can identify all the movies!) which is available on youtube.   This app was largely created with the iphone app Auxy.
Stay tuned.  Follow along on Spotify!  There is also a growing extended Thirteenth Hour playlist on Spotify with a growing number of retro 80s songs.
As always, thanks for listening!  Thanks for coming on the show, Brent!  It was a pleasure!
∞∞∞∞∞∞∞∞
 Signup for the mailing list for a free special edition podcast, a demo copy of The Thirteenth Hour, and access to retro 80s soundtrack!
Follow The Thirteenth Hour's Instagram pages: @the13thhr for your random postings on ninjas, martial arts, archery, flips, breakdancing, fantasy art and and @the13thhr.ost for more 80s music, movies, and songs from The Thirteenth Hour books and soundtrack.
Listen to Long Ago Not So Far Away, the Thirteenth Hour soundtrack online at: https://joshuablum.bandcamp.com/ or Spotify.  Join the mailing list for a digital free copy.  You can also get it on CD or tape.
Website: https://13thhr.wordpress.com
Book trailer: http://bit.ly/1VhJhXY
Interested in reading and reviewing The Thirteenth Hour for a free book?  Just email me at writejoshuablum@gmail.com for more details!