Episode #244: Reading from Empty Hands on the Imperial Ranger Uniform and Like a Hood Ornament 4 – Cliff Secord's Jacket

https://archive.org/download/podcast244/Podcast%20244.mp3
This week's show is about clothing – Logan's Imperial Ranger uniform in Empty Hands and The Thirteenth Hour as well as Cliff's jacket in the Rocketeer segment (which inspired the way I drew Logan's costume).
In the first part of the show, I'm reading from a section of The Thirteenth Hour interlude, Empty Hands, which describes what the Imperial Rangers wore for formal uniforms:
The morning of the Drawing was cool and crisp.  The last vestiges of winter were still apparent, though you could get by without a coat if you were willing to be a little chilly.  For the ceremony, we were supposed to wear our formal uniforms, which we started training in a few days prior.  Unlike many things about the Imperial Army, a lot of thought had gone into Imperial Ranger gear, and although there were no surviving craftsmen who knew how to make Imperial Ranger boots, uniforms, and weapons, enough of the old training manuals had survived that the ones in the castle could learn.  Compared to the stiff, uncomfortable uniforms the regular Army soldiers wore, the Ranger uniforms were fairly well designed.  They were intended to be working uniforms and could look sharp if clean and pressed, but they had both functional and cosmetic purposes due to the Rangers' multiple roles as soldier, explorer, bodyguard, and diplomat.
As our instructors had said, we did have to move a bit differently when fighting in our uniforms, though not as much as one might have thought.  The pants and shirts were baggy and easy to move in, for instance, and the outer tunic that covered the shirt was flexible but offered protection since it was interwoven with a layer of fine-link chain-mail backed by suede to keep the links from embedding in a wound should the chain-mail break.  It wasn't as heavy as wearing a full chain-mail shirt, but it offered disguised protection from glancing strikes to the internal organs of the torso.  It wouldn't stop a point blank shot from a warbow, but then again, there's a good chance standard plate armor wouldn't, either.
All this flashed through my head as I raced to get ready that morning.  Unlike most days, there had been no early morning conditioning session, so everyone had slept later.  My bed was in the corner, and I must have continued sleeping as Blake, who had the top bunk, left with the others for breakfast.  When I woke, the position of the sunlight shining in the window let me know immediately that I had overslept, and a glance at the clock in the corner confirmed it was 8:50, meaning I had exactly ten minutes to get to the field where the Drawing would be taking place.  Cursing, I ran to the washroom, took care of my morning business, and rummaged through my locker, searching for a uniform that wasn't crumpled or malodorous.  I'd hung up my sweaty uniform in the washroom after yesterday's practice, but someone must have knocked it over soon after, since now it lay in a crumpled, smelly heap on the floor.  We had three each, but my other one smelled even worse, so it took some digging to get to my last one, which was still wrapped in the bag in which it had been issued to me.  I raced out the door as soon as I had it on and ran the whole way to the field where the King would be addressing us for the formal commencement of the Drawing.
I was still late.
A concept sketch of the Imperial Rangers wearing the uniforms described above.
Another sketch of Logan flying through the air on Lightning wearing the uniform described above.

There's a little instrumental part to accompany parts of the story where the Imperial Rangers have to march around (in the LP Long Ago Not So Far Away) that is playing in the background during part of the reading.
Speaking of music, I've been going through a number of acoustic guitar songs I used to play a lot when I was first learning how to play, since in this time of national quarantine, I try to do music time with my kids as a part of, you know, daddy daycare.  I've picked out a few that are more hopeful and positive than the stuff songs are often written about (heartbreak, unrequited love, longing, substance use, and other important adult matters).   Anyway, I've included one such song ("If We Hold On Together" from the 1988 cartoon, The Land Before Time), as it was co-written by James Horner, who also did the music for, yes, you guessed it, The Rocketeer.
Today's Rocketeer segment is also about flying – the Rocketeer's jacket!
Today marks the fourth Rocketeer segment as a part of the podcast.  Below are a few previous episodes about the Rocketeer:
–Ep 18 on comics (Dave Stevens)
–Ep 53 on rewatching the Rocketeer as an adult
–Ep 235 on making the resin miniature Rocketeer
This week, we're discussing Cliff's jacket – the iconic leather jacket with the front bib making up the front.  Although you can totally buy lots of replica jackets, the origin of the jacket is totally unknown to me.  I have never exactly been able to find where Dave Stevens got the idea for it but have a few guesses about things he may have been influenced by or watched as a kid:
-Commander Cody serials (which you can totally watch on Youtube) – wears a leather jacket; note the similarities to the Rocketeer's helmet and double barreled silver rocketpack.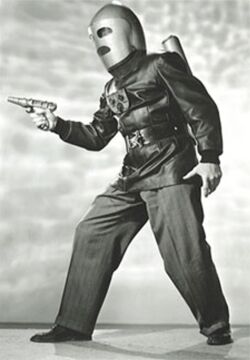 -Westerns, like this shot of John Wayne in Horse Soldiers:
You can find a similar shirt in many places like (https://www.spurwesternwear.com/p-1125-scully-bib-front-shirt-red.aspx).
Here are some pictures of Cliff's clothes from the original comic drawn by Dave Stevens (they come from The Rocketeer: The Complete Deluxe Edition).
You can see a photo above of Dave Stevens on the right trying on a Rocketeer helmet wearing Cliff's jacket (he used photos of himself as models for Cliff).
This little animated .gif is, of course, from the point in the movie where the Rocketeer, not above a little self conscious vanity, asks how he looks.  Peevy, not above a little blunt honesty, says "Like a hood ornament!"  The Rocketeer blasts off for the first time, Peevy gets blown backwards into the hangar, and I get a name for this part of the podcast!
Stay tuned for more Rocketeer gear talk next week!  Stay safe!
∞∞∞∞∞∞∞∞
There are now Thirteenth Hour toys!  If you'd like to pick up one of these glow in the dark figures for yourself, feel free to email me or go to the Etsy store I set up (https://www.etsy.com/shop/ThirteenthHourStudio) and get them there.

If you haven't checked out "Arcade Days," the song and video Jeff Finley, Brent Simon, and I finished one year ago, click on the link below to do so!
You can find more pictures and preview clips of "Arcade Days" on IG as well as this podcast's FB page.
Empty Hands, the synth EP soundtrack to the novella, Empty Hands, is now out for streaming on Bandcamp.  
Stay tuned.  Follow along on Spotify!  There is also a growing extended Thirteenth Hour playlist on Spotify with a growing number of retro 80s songs.
As always, thanks for listening!
∞∞∞∞∞∞∞∞
 Signup for the mailing list for a free special edition podcast, a demo copy of The Thirteenth Hour, and access to retro 80s soundtrack!
Like what you see or hear? Consider supporting the show over at my virtual tip jar over at Ko-fi.
Have this podcast conveniently delivered to you each week on Spotify,  iTunes, Stitcher, Player FM, Tunein, and Googleplay Music.
Follow The Thirteenth Hour's Instagram pages: @the13thhr for your random postings on ninjas, martial arts, archery, flips, breakdancing, fantasy art and and @the13thhr.ost for more 80s music, movies, and songs from The Thirteenth Hour books and soundtrack.
Listen to Long Ago Not So Far Away, the Thirteenth Hour soundtrack online at: https://joshuablum.bandcamp.com/ or Spotify.  Join the mailing list for a digital free copy.  You can also get it on CD or tape.
Website: https://13thhr.wordpress.com
Book trailer: http://bit.ly/1VhJhXY
Interested in reading and reviewing The Thirteenth Hour for a free book?  Just email me at writejoshuablum@gmail.com for more details!